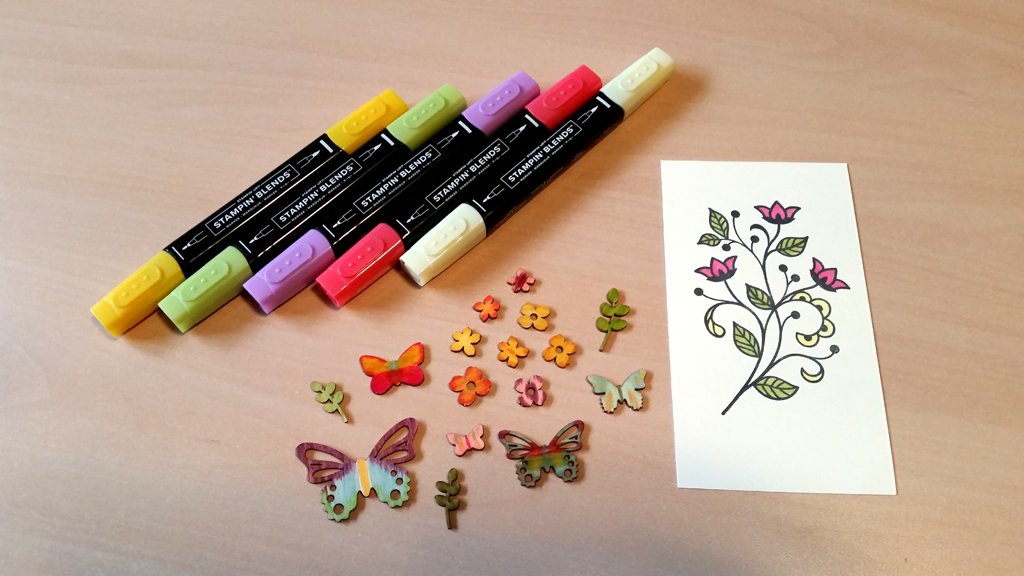 If you don't have any of the Stampin' Blends - AKA Blender Pens, you need to budget a few extra dollars and treat yourself to a couple with each order you place. Today I was just playing around with mine, colouring some floral stamps - AND - on some wooden elements from the Sale-A-Bration Butterfly Gala. I LOVE the vibrancy of the colours, and how EASY these markers are to use!
These quality alcohol based markers are absolutely fantastic for colouring on paper, foil, faceted gens, pearls, and more. They are much more forgiving than regular markers, and work with a feather light touch. Their unique ability to pull colours together (BLEND) is made possible by the alcohol in the ink. The more you colour over an area, the darker it gets. And if you go too dark, there is a special white lightener pen that will unsaturate or lighten up the area you colour in.
By blending together colours from a similar base, you can create almost 3D realistic shading. By blending together opposing colours you can create fantastic fades that make it appear you have used three or more colours. Using red next to yellow will cause orange to appear where they touch each other. Using yellow on top of blue will create green - just like mixing paints or inks.
They come in matched pairs of light and dark in all the great Stampin' Up! colours and cost just $6 each marker ($12 a pair). Because they get darker the more you layer them, I suggest you buy the "light" versions of a handful of colours to start. If you find you just can't get a particular one to go as dark as you want by layering it over several times, then buy the "dark" version of that colour. My experience has shown me that the light pens are fine for 90% of what you will want to colour.
Head on over to the online store and check out the Stampin' Blends
---