Padded Mini Craft Calendars
VERY POPULAR ITEM! Thousands sold every year

My padded mini calendars come with 12 glued, tear-away months plus a "Happy New Year" starter sheet on a cardboard backing. Perfect for cardmaking and scrapbooking projects LIKE THE ONES YOU SEE HERE. They measure approx. 3-5/8" wide by 2-1/8" tall (almost business card size). You can stamp on each sheet to further embellish and decorate them if you choose.
Minimum order is 6 pieces, but you can order as many as you like. Be sure to select your proper ship-to country and language to get the proper pricing.
Shipping is included
in the pricing you see. All orders are shipped via regular letter-mail, and as such, orders for more than 20 pads may be split amongst multiple envelopes depending upon the destination. There is no tracing or tracking with letter-mail.
If you require tracing and guarantee of delivery, you will have to pay expedited parcel rates starting at $22
* Be sure to choose a free tutorial for a calendar card project over in my
FREE TUTORIALS
section.
*
You are purchasing the padded calendars only - NOT the completed projects shown.



FINAL ORDER DATE NOVEMBER 15th 2021
My current order of calendars is almost depleted - I will be making ONE FINAL ORDER FROM THE PRINTER on November 15th, based on all order quantities received by that date. If you want calendars, you MUST place and pay for your order now as a backorder, and they will ship on or around the 17th of November.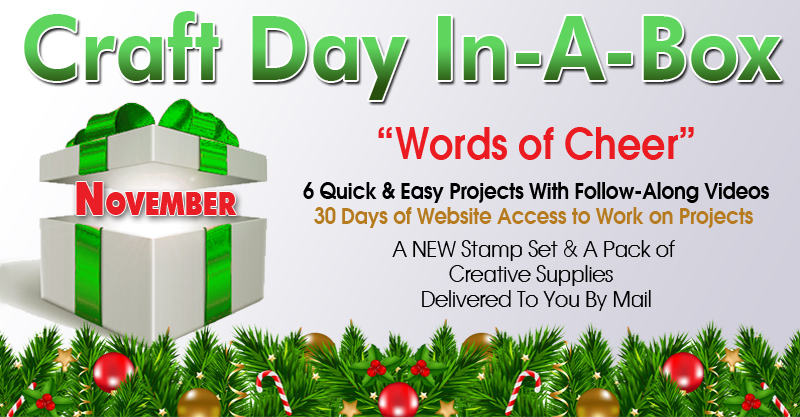 CRAFT DAY IN-A-BOX NOVEMBER
At Home Crafting Event
30 Days of Event Access
6 Fun Quick-and-Easy Projects

REGISTER NOW





At Home Crafting Event
Saturday OCTOBER 16th
4 Fun Quick-and-Easy Projects
Up to 6 rounds of Lucky Hand
HUGE GIVEAWAYS!

REGISTER NOW
Upcoming Classes & Events
Paper Pumpkin Crafting
Paper Pumpkin is for Everyone! No Skills or tools required. Each month a fully designed project kit arrives in a delightful box filled with stamps, ink, and paper—everything cut and ready to go so you can skip right to the fun. Just think of it as creativity in a box.
More Info
SIGN ME UP!