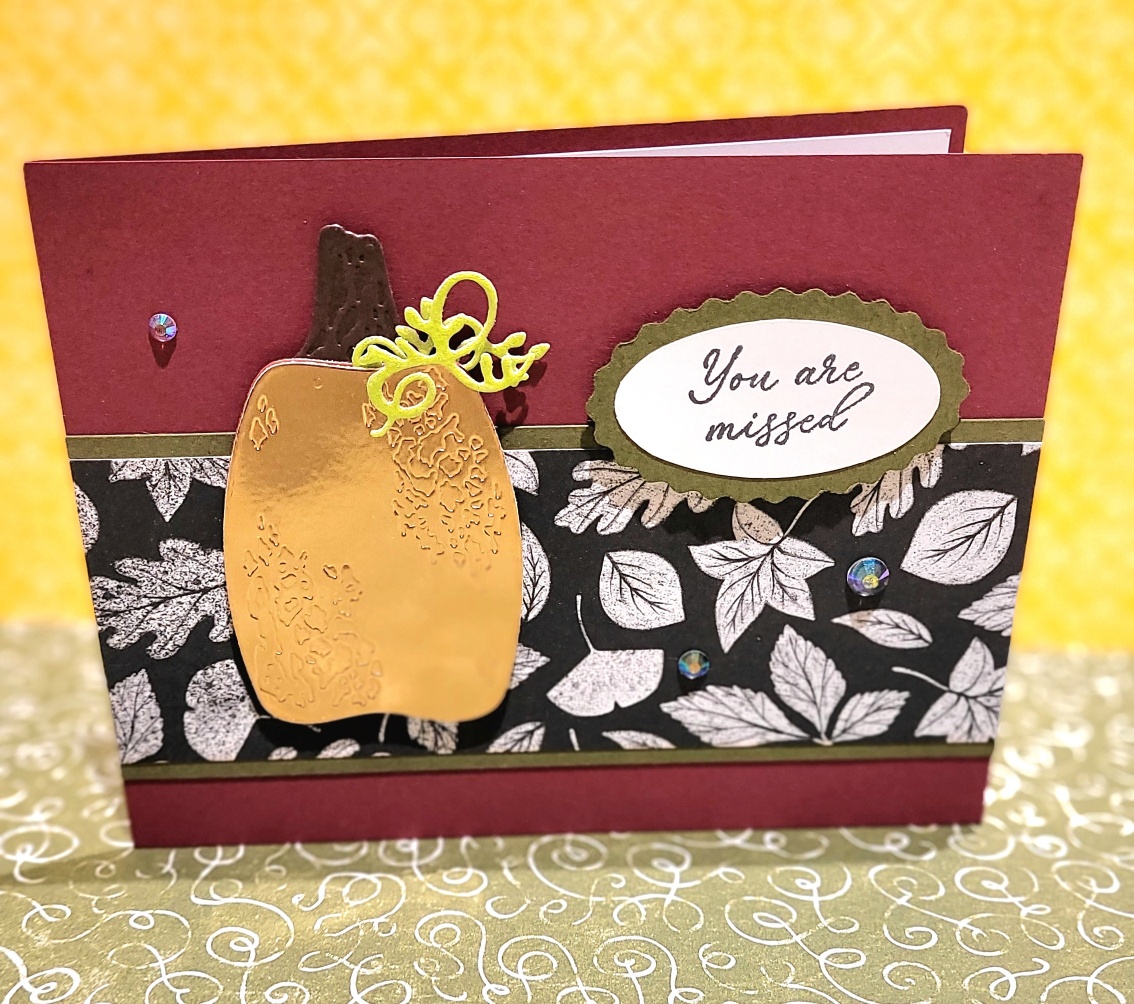 Welcome friends, It's time once again for the monthly Gentlemen Crafters Design Team Blog Hop. The Gentlemen Crafters Design Team (#TGCDT) are a group of male crafters & Independent Stampin' Up! Demonstrators from around the world, that love to share our creative side with you on the 2nd Friday of each month. Be sure to visit all the presenters in this month's hop - links can be found at the bottom of this post.



The temperature here in Atlantic Canada has taken a sudden dip as we enter the Fall season. Frost comes almost nightly now, and the leaves are changing colour. The fields are ripe for harvest with pears, apples, pumpkins, squash, corn, gourds and every other kind of produce you can imagine. Indeed, you can't drive more than a half hour anywhere in Nova Scotia and not run into a roadside stand or farm market celebrating the bountiful harvest. I am lucky to live just 20 minutes from where the video below was shot - this is what I see on my daily drives this time of year.


So it seems only fitting I feature the splendid "Hello Harvest Bundle" and the "Rustic Harvest" Designer Series Paper in my project this month. I have been creating all sorts of cards with this set for upcoming events and classes, and I am having a great deal of fun - I may come back in a bit and update this post with more card samples, but not until my events take place, so please be patient. In the meantime, I hope you enjoy this simple but elegantly beautiful card, and I hope you consider creating something with the Hello Harvest bundle yourself.
159644 HELLO HARVEST BUNDLE $68.25
159633 RUSTIC HARVEST 12" X 12" DSP $16.50



Measurements

Designer Series Paper
5 1/2" x 2" pf the B&W Leaf Pattern

Merry Merlot Cardstock
11" x 4 1/4" scored at 5 1/2"

Mossy Meadow Cardstock
5 1/2" x 2 1/4"
scrap to punch with the Double Oval Punch

Basic White Cardstock
5 1/4" x 4" inside panel
scrap to punch with the Double Oval Punch

Early Espresso Cardstock
small scrap to die-cut the pumpkin stem

In Colour Glitter Paper - Parakeet Party
small scrap to die-cut a set of vine-tendrils

Brass, Gold, or Copper Foil
2" x 3" for die-cut pumpkin shape

Ink
Memento Tuxedo Black

Embellishments
Iridescent Rhinestone Basic Jewells






Please visit all the other truly talented

crafters
in this Blog-hop. Click a name below

Barry Selwood & Jay Soriano
Brenton Golley
Martin Stone



unable to participate this month


Daniel Nickerson
Bruno Bertucci